25 Years of Trapped Ions in Innsbruck Symposium in honour of Rainer Blatt's 70th birthday
In celebration of the 70th birthday of Rainer Blatt, his 'cross of honour' from the state of Austria, 25 years of ion-trap based quantum optics and spectroscopy in Innsbruck (among other things to celebrate), the teams in Innsbruck are organising a symposium for Rainer.
We will have plenty of special guests such as the 'PhD-father' of Prof. Rainer Blatt: Guenter Werth, and friends attending such as Didi Leibfried, Piet Schmidt, Ferdi Schmidt-Kaler, Juergen Eschner, Christoph Becher, Rene Gerritsma, Lukas Slodicka, Markus Hennrich, Günter Werth, Jonathan Home, Klaus Boller, Cornelius Hempel, Uli Poschinger, Ekkehard Peik, Tommaso Calarco, ...
Venues
The guide to the venues of the symposium can be downloaded here: Link
These will take place at Karl-Rahner-Platz 3 (Jesuitenplatz), 6020 Innsbruck in the so-called 'Leopoldssaal'.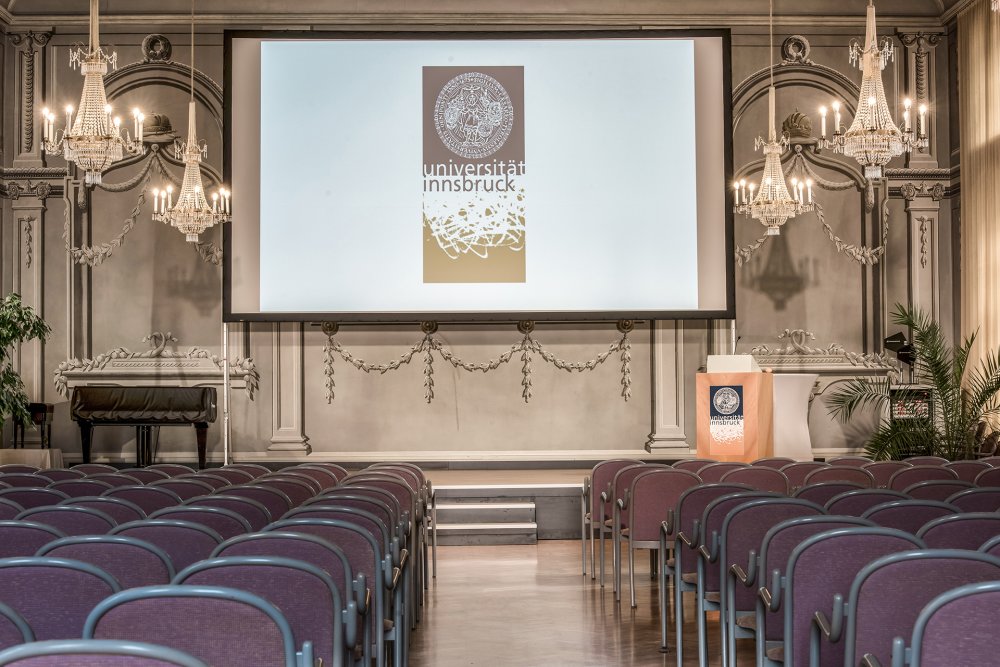 Conference Dinner
We shall convene at the restaurant Bierstindl, Klostergasse 6, 6020 Innsbruck.
Agenda
The agenda of the symposium can be downloaded here: Link
Agenda for Sept 21
Early-bird Check-In
Location: Technikerstrasse 25, 4th floor, Seminar-Room East Between 13:00 and 16:00
Agenda for Sept 22
Location: Karl-Rahner-Platz 3 (Jesuitenplatz), 6020 Innsbruck Leopoldssaal on the second floor
For details, please see Conference Venue
Opening remarks:

Prof. Dr. Tilmann Märk
Rector of the University of Innsbruck

Dr. Daniel Weselka
Department for Fundamental Research and Research Infrastructure

Ministry for Education, Science and Research

Landtagsabgeordnete MMag.a Dr.in Cornelia Hagele

Member of the state parliament of Tirol

Prof. Dr. Alexander Ostermann
Dean of the Faculty of the Mathematics, Informatics and Physics

Prof. Dr. Gregor Weihs
Head of the Institute for Experimental Physics

Talk:

Prof. emerit. Dr. Günter Werth

University of Mainz

A short history of ion traps (with particular attention to Innsbruck)

Talks:

Prof. Piet Schmidt
Physikalisch-Technische Bundesanstalt
An Optical Atomic Clock Based on a Highly Charged Ion

Talks:

Prof. Dr. Hartmut Häffner
University of Berkeley
Towards quantum computing with trapped electrons

Prof. Dr. Jürgen Eschner

University of Saarbrücken

Single ions beyond logic

Prof. Dr. Ferdinand Schmidt-Kaler
University of Mainz
Segmented traps and applications based on transport of ions (tent.)

Dr. Christian Roos
University of Innsbruck
Scaling up ion crystals for simulating quantum many-body systems

Conference Dinner

Please see Conference Venue
Agenda for Sept 23
Location: Technikerstr. 25, 6020 Innsbruck
Physics areas including labs on floors 0, 1, and 4, IQOQI, AQT, ...
For details, please see Conference Venue
Info point at Experimental Physics Kitchen (4th floor)

Univ. Innsbruck lab tours and discussions available at

Quantum Optics (Blatt)

Quantum Information (Monz)

Cavity QED (Northup)

Fibre-cavity (Northup)
Nanospheres (Northup)

Molecular Ions (Schindler)

Photon Conversion (Lanyon)

Quantum Networking (Northup & Lanyon)

Qudits (Ringbauer)

Scalable ion-trap technologies (Monz/Schindler)

Quantum simulations in 2D arrays (Roos)

IQOQI Innsbruck:

Quantum Simulations (Roos)

AQT: Experience Center at Technikerstr. 1-3


Seminar rooms are available at the locations for further discussions.